Book Cover, Table of Contents, and Author Introductions for "Decolonizing Futures"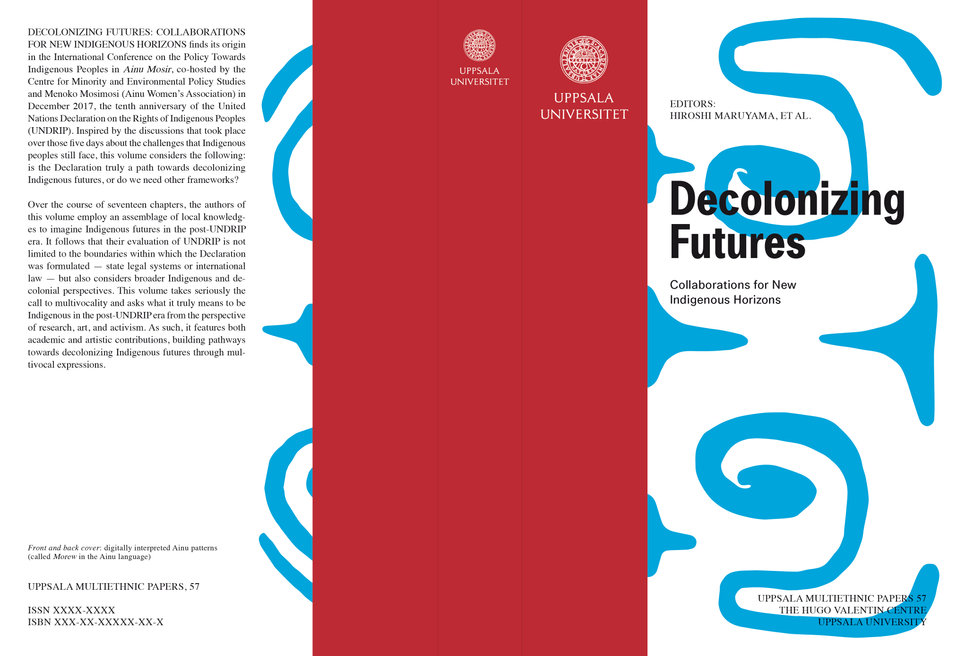 Over the past two years, the CEMiPoS team has had the privilege of working with researchers and Indigenous scholars, activists, and artists around the world on producing the seventeen chapter volume Decolonizing Futures: Collaborations for New Indigenous Horizons, to be published by Winter 2021 with Uppsala University. The volume, inspired by the discussions that took place at the International Conference on the Policy Towards Indigenous Peoples in Ainu Mosir, co-hosted by CEMiPoS and Menoko Mosmos (Ainu Women's Association) in 2017, considers the following: is the UN Declaration on the Rights of Indigenous Peoples truly a path towards decolonizing Indigenous futures, or are other other frameworks necessary?
Above is the cover of our book, inspired by Ainu art and by Polish designer Marcel Kaczmarek. We include the final table of contents below, as well as introductions to each author. Thank you all for your magnificent contributions to this work.
---
Leni Charbonneau is currently obtaining her master's degree in Global Environmental History at Uppsala University in Sweden. Her work unfolds at the intersections of epistemology and ethics, and she is interested in historicizing and challenging normative socio-cultural concepts concerning human-environmental relations. Her most recent publications have taken the form of collaborative projects in the fields of environmental aesthetics and philosophy.
Fern Eyles is currently completing her MA at Massey University. She studies sovereignty and its methods of reproduction, with a particular interest in polar regions. She has a BA in classical studies, and BA (Hons) in social anthropology.
Janice Cindy Gaudet is an Métis Indigenous woman connected to generations of strong and beautiful Matriarchs from the South Saskatchewan region. She is an Assistant Professor at the Campus Saint-Jean, University of Alberta. She holds a Canada Research Chair, Metis Relations & Land-Based Wellness. Her doctoral studies and grassroot community engagement with Indigenous Peoples has inspired her decolonial approach in research, wellbeing, and pedagogy by centring Indigenous women's knowledge, stories, and lived experiences alongside critical social justice.
Satu Gröndahl is Associate Professor at The Hugo Valentin Centre, Uppsala University. She has published extensively on Nordic minority literatures. Her research interests include transnational literature, nation building processes and literature, and gender studies. She has served as a director for The Hugo Valentin Centre and is a professor at the Sámi University of Applied Sciences in Norway. She has led externally financed projects and Nordic networks and is a founding member of the network "Diversity in Nordic Literature" DINO.
Arnaq Grove is Associate Professor at the University of Greenland, Department of Translation and Interpretation. She works on the Greenlandic Oral Tradition with an interest in linguistics, philology, and literary science. She has published several studies on oral language, literature, and culture, including Words and Gesture: An Inuit Storyteller in East Greenland (with Raymond Boyd and Nicole Tersis, Peeters Pub & Booksellers, 2016) and "A Brief History of Greenlandic Healthcare Development and the Teaching of Interpreting" in Multilingual Healthcare (edited by Christiane Hohenstein and Magdalène Lévy-Tödter, Springer Gabler, 2020).
Quintin Gumucio Castellon is former senior lecturer at Uppsala University, Department of Anthropology, and Gävle University College. He has done extensive fieldwork with an interest in Ethnobotany, Religion, and Ethnohistory. In addition to being a part-time supervisor of Master Thesis in Humanitarian Action, he is currently making revisions to a study of the Indigenous concept of landscape in the Southern Andes. His most recent publications include "An Anthropological Perspective on the Timeline of Humanitarian Interventions" in International Humanitarian Action: NOHA Textbook (edited by Hans-Joachim Heintze and Pierre Thielbörger, Springer Publishing, 2017).
Madoka Hammine is Associate Professor at Meio University. Her research interests include heritage language teaching and learning, Indigenous language education, Indigenous teacher education, and language planning and policy. She has published articles focusing on Sámi language education as well as Ryukyuan language education.
Kamrul Hossain is Associate Professor and Director of the Northern Institute for Environmental and Minority Law (NIEM) of the Arctic Centre in the University of Lapland. The focus of his research currently lies in international environmental law in the context of the Arctic region, as well as in human rights law, especially concerning the rights of the indigenous peoples. Over the years, he has extensively published in all areas of Arctic governance, highlighting legal, institutional and policy perspectives.
Leena Huss is Professor Emerita in Finnish at Uppsala University, Sweden. She belongs to the Sweden Finnish minority, and the maintenance and revitalization of minority and Indigenous languages has long been her main field of research. She has published, edited and co-edited on language revitalization in northern Scandinavia and beyond, and her present focus of interest is the revitalization of South Sami in Sweden and the impact of language loss and local revitalization efforts on health and wellbeing in Indigenous communities.
Carles Jornet Aguareles is a social anthropologist specialized in Indigenous cultural heritage and decolonizing processes in the Pacific area, working mainly in the island of Rapa Nui (Easter Island). His research has received numerous awards, including the "X J.F. Mira research award" for the work "Tātou henua, ko Rapa Nui. Nuestra tierra, Rapa Nui. Hacia una descolonización del patrimonio", which will be published as a monograph in 2021. He is currently a research member at the Centre for Environmental and Minority Policy Studies.
Jade Kake (Ngāpuhi, Te Whakatōhea, Te Arawa) has experience in research and policy advocacy. She is interested in ensuring that Māori women are not further marginalized and disenfranchised by patriarchal and Eurocentric policy and practice. She is a named claimant for the WAI 2717 mana wāhine claim.
June L. Lorenzo is Laguna Pueblo and Diné, and lives and works in New Mexico as a tribal judge, attorney, consultant, and human rights advocate on issues of uranium mining legacy, protection of sacred landscapes, and implementation of the UN and OAS Declarations on the Rights of Indigenous Peoples. In 2020, she published the report Kiskinohamatowin: An International Academic Forum on the Human Rights of Indigenous Peoples at the Centre for International Governance Innovation.
Maria de Lourdes Beldi de Alcantara is Professor in Medical Anthropology at the University of São Paulo, head of the NGO Support Group for Indigenous Youth – GAPK, and consultant for international work group for indigenous affairs – IWGIA . She has done extensive ethnographic research on mental health issues in Indigenous communities in Brazil. She has contributed to multiple published works, both written and video.
Hiroshi Maruyama is Professor Emeritus at the Muroran Institute of Technology and Honorary Doctor at Uppsala University. He has been devoted to studying environmental and Indigenous policy in search of social justice, local autonomy, and human rights. His recent publications include Indigenous Efflorescence: Beyond Revitalisation in Sapmi and Ainu Mosir (co-edited with Gerald Roche, Åsa Virdi Kroik, ANU Press, 2018) and "Emerging political movements in the post-Ainu Culture Promotion Act in Japan" (in Indigenous Places and Colonial Spaces: The Politics of Intertwined Relations, edited by Nicole Gombay and Marcela Palomino-Schalscha, Routledge, 2019).
Isabelle Meawasige is an Ojibwe Grandmother Knowledge Keeper from Serpent River First Nation. She is Bear Clan and is committed to her sacred role and responsibilities to learning and sharing Indigenous women's traditional knowledge, teachings, and healing practices to uplift and support generations of Indigenous women and their families. She is co-founder of Ki Ga Do Waak Nookimssuk, a grassroot Grandmothers Council, which mobilizes Indigenous communities via presentations about human trafficking and its underlying causes and repercussions.
Katarzyna Pastuszak is a performer and Artistic Director at Amareya Theatre & Guests, academic teacher and researcher (adjunct professor at CEMiPoS; lecturer at the University of Gdańsk), and dance and theatre pedagogue. Since 2012, she has been developing performative projects revolving around her-stories of women from ethnic, cultural, political, and social minorities. These projects include: Nomadic Woman (2012) co-created with the Inuit artist Louise Najavaraq Fontain and two projects with the participation of Ainu and Polish artists: Ainu Mosir – Ainu Womb: Stories of Ainu Women (2018) and (Re)verberations: Bridges Between Poland and Japan (2019).
Stefania Castelblanco Pérez is a Colombian artisan, researcher, and designer based in Bogotá and Stockholm. Her expertise lies in the crafting of upcycled bags and other accessories. Currently, through practice and research, she investigates the relation between sustainability, material
availability, traditional craft techniques, and the role of craft processes in collective, ecological and cultural resistance. Her recent research work focuses on indigenous craft materiality and process as tools for social, cultural, and ecological resistance.
Marie Persson Njajta lives in the mountains of Bearkoenvuemie, Dearna, where she passes her Southern Sami culture on to her children. For over ten years, she has been fighting against the exploitation of traditional South Sami lands and culture by a mining project, one of many projects threatening the Sami way of life. She has collaborated with women human rights defenders fighting against exploitation and colonialism around the world. She uses creative expressions to cope with the wounds of colonialism.
Nina Sivertsen is an Indigenous Sámi woman living and working on Kaurna Lands in Australia. She holds a position as Senior Lecturer (Nursing), Flinders University, and Associate Professor, Arctic University of Norway. She focuses on community and health systems research in partnership with First Peoples and contributes to restorative policy and practice, especially around women's health in a socio-political context of assimilation and colonization. She works together with health professionals from around the world to improve healthcare and health outcomes for all First Nations people.
Sheila Smith is a member of the Society of the Sacred Heart, a women's faith-based organization. She is their representative at the United Nations in New York, where she brings 35 years of experience in community-based advocacy in education, Indigenous rights, and gender equality. Sheila is of Irish-English settler descent from Algonquin territory, Ottawa, Canada. She has a PhD in Ethics from Saint Paul University, Ottawa, Canada and is keeper of the Kii Ga Do Waak (Grandmother Council) Talking Stick, which she was asked to bring to the UN on their behalf.
Sagka Stångberg is a Sami educator, politician, and activist. She has worked both locally and internationally towards strengthening the position of South Sami language and culture through a variety of educational, cultural, and political initiatives. She has worked towards strengthening the status of Sami languages, first as a teacher and later as the principal at the Dearna Sami School from 1980 until 2011. In her political work, Stångberg has been focusing on raising awareness on the endangered situation of the Sami languages, and on restoring the old-established rights of the South Sami in Dearna.
Elizabeth Sumida Huaman (Wanka/Quechua) is Associate Professor of Comparative and International Development Education at the University of Minnesota. She studies the relationship between Indigenous lands, cultural practices, and in and out-of-school learning with Indigenous communities and institutions that centre Indigenous knowledge systems for self-determination. Recent publications include Indigenous Knowledge Systems and Research Methodologies: Local Solutions and Global Opportunities (co-edited with Nathan D. Martin, Canadian Scholars' Press, 2020), "Indigenous women and research" (co-authored with Tessie Naranjo, 2019, International Journal of Human Rights Education), and several works in the Anthropology & Education Quarterly and the Journal of Indigenous Social Development.

Ryoko Tahara is deputy director of the Sapporo Ainu Association and founder and chief director of the Ainu Women's Association. She has been engaged in tackling Ainu women's issues, which were hidden prior to her campaign. Since 2003, she has participated in the Committee on the Elimination of Discrimination against Women three times. Meanwhile, she conducted questionnaire surveys on problems facing Ainu women to her colleagues, which are the only surveys on Ainu issues conducted by Ainu themselves.