Book Launch Decolonizing Futures - Report
On 9 and 10 December 2022, we gathered together with thirty participants at Uppsala University in Sweden to celebrate the publication of Decolonizing Futures: Collaborations Towards New Indigenous Horizons. Our aim was to present the content of the volume, share perspectives unelaborated in the book, and discuss potential future collaborations between contributors. We rekindled old threads of connection and weaved new ones. We celebrated where we got thus far and laid the foundations for paths forward. We encountered challenges and learned together what decolonization may look like.
On day 1, the contributors presented their respective chapters in five separate panels. Even though not all of the contributors were able to make it to Uppsala, we still had many with us who could do justice to the broad interdisciplinarity of the book. We were welcomed to Uppsala University by organizer Satu Gröndahl and Tomislav Dulic, director of the Hugo Valentin Centre based at the university. After Hiroshi Maruyama gave us a brief tour of the editing process, we started with the panel sessions. We started the day with a panel on legal and political avenues for decolonization, and through various discussions from artistic, educational, and historical perspectives, we concluded with a final panel on decolonization through art, language, and the body.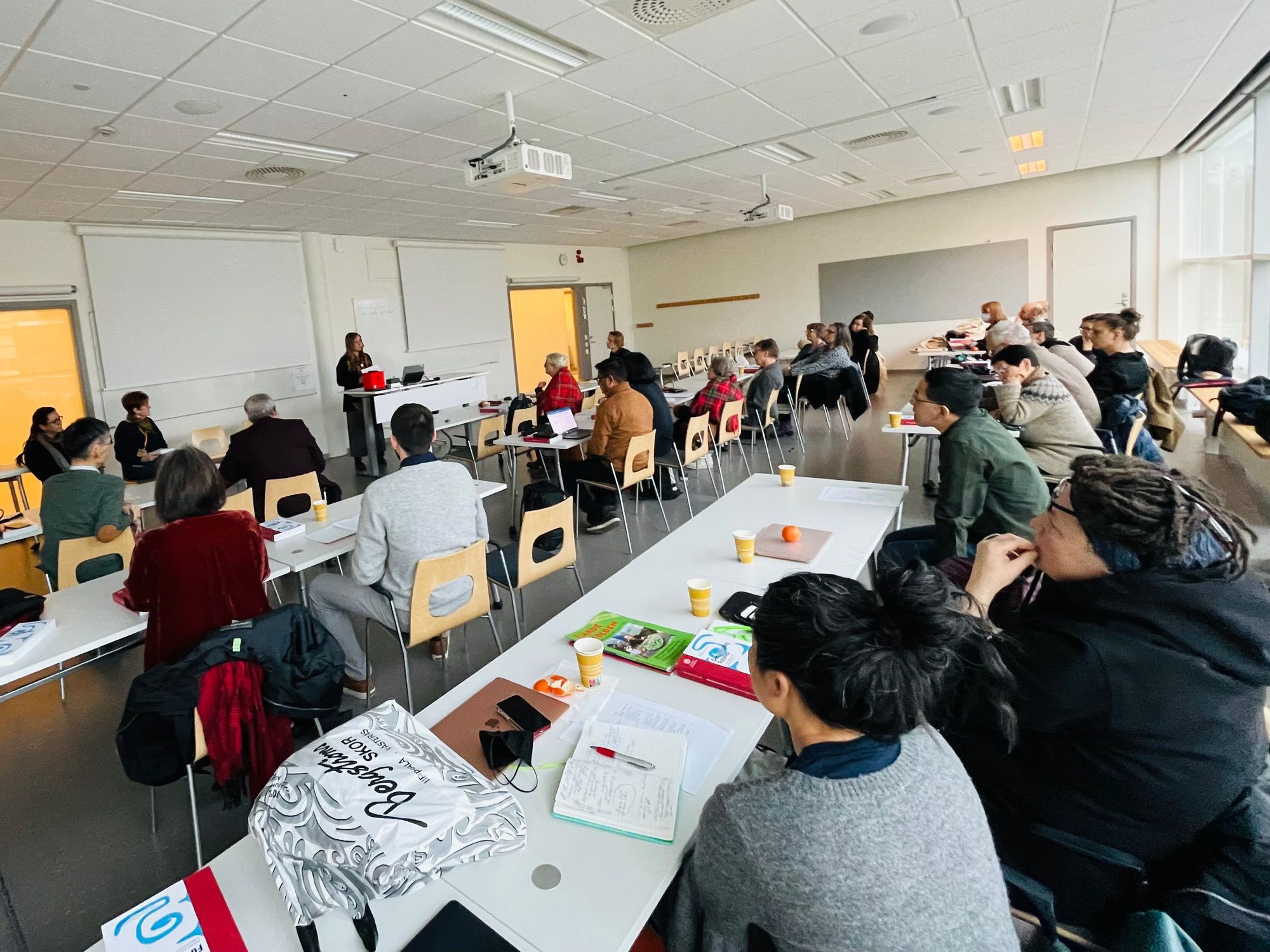 The first panel started with Kamrul Hossain and Quintin Gumucio Castellon on indigenous rights and institutional change. Kamrul presented his chapter on the history of the indigenous rights movement, its current position in international law, and challenges and opportunities for the future. Specifically, he considers the gap between formal recognition and actual implementation of the principle of Free, Prior, and Informed consent an important challenge moving forward. Quintin followed with a presentation on possibilities for indigenous autonomy in Chile. Through exploring avenues for change, he aims to expose the centralizing tendencies of the Chilean state, one that characterizes this country more so than other settler colonial states because of its geography. But even though there are plenty of possibilities for decentralization and federalism in Chile, Quintin argues, ultimately the national government needs to be convinced to give its power to local governance bodies. In the question round, Elizabeth Sumida Huaman stressed the importance of asking who does this work of decolonization, and whether it is truly decolonization if indigenous rights are bestowed upon indigenous groups by international legal bodies or the state. Kamrul argued that we can understand the law not as a sovereign authority imposing rights on indigenous peoples, but rather as a pragmatic means to realize inherent indigenous rights. We concluded the panel with identifying the importance of recognizing the tension that arises when attempting to realize indigenous emancipation through institutions that are rooted in settler colonialism, as important as this institutional change may be.
The second panel featured three indigenous artists, who contributed their artwork to the artist profiles featured in the book: Julie Edel Hardenberg, Lena Stenberg, and Antonie Frank Grahamsdaughter. Julie presented her work as a visual artist. Her projects aim to make the invisible colonialism visible, particularly in her native lands of Greenland. She often uses national flags in her work. National flags are laden with symbolism; one of the things they symbolize is the collective people whom they represent. Lena briefly introduced herself as a Sámi artist, who works with and takes inspiration from her own communities. Antonie shared her work as an artist through the story of her family, revolving around the silencing and revival of indigenous identity. For her, art is a way to reclaim her family story and achieve intergenerational decolonization. In the question round, the artists were asked how they view the relationship between art and activism in their work. For all three of them, activism naturally flows from doing indigenous art, since society is so laden with the violent silence of colonialism that giving indigenous peoples a voice inevitably constitutes an act of resistance. Afterwards, the organizers got feedback that it was difficult for the artists to present according to the framework we set up, with little time to prepare and no active facilitation for showing visual materials. This reminded us that working with artists in an academic setting should be accompanied by challenging academic conventions. This is a decolonial effort: with its cloud of objectivity, academia has actively participated in eradicating indigenous knowledges. For the organizers, hearing the criticisms from the artists encouraged us to do better; to make sure that we do not just invite artists and activists into an academic space, but that we build a space that transcends the boundaries between these practices together.
The third panel revolved around the ways in which indigenous activism moves through education and literature, with Marie Persson Njajta, Satu Gröndahl, and Elizabeth Sumida Huaman. Marie, a Sámi human rights defender who has greatly contributed to Sámi culture and education in her South Sámi community and member of the Sámi Parliament, discussed the work done by her and others against the invisible legacies of colonialism in Sámi communities. She presented initiatives that aim to reconcile with a violent history that reverberates into the present through intergenerational trauma and neocolonial extractivism, but also stressed that continuing to live on traditional lands and reclaiming Sámi language and culture is in itself an act of resistance. Satu presented her research on Sámi literature, and how the authors and protagonists navigate their double identities of Sámi and Swedish. She found that rather than notions of hybridity or postcoloniality, author-protagonists express their indigenous identity in terms of "being dead", having lost the lifelines connecting them to their lands, histories, and communities. In the books, this feeling of being dead is reconciled by the characters through reclaiming their family histories as their own, however painful they may be. Elizabeth presented decolonizing strategies for educating Indigenous students about their family histories. She researches ways in which Indigenous communities take control of their own systems of learning to restore various aspects of Indigenous life, for example relationships to indigenous territories. She concluded with current challenges to Indigenous education and Indigenous land relationships, such as land dispossessions and climate change.
Before entering into the lunch break, Eva Forsgren, Chair of the Uppsala Sámi Association, presented the work of her own organization and others like Amnesty Sápmi. She works along four axes: protecting territory; acting against racism, hatred and threats towards Sámi people; repatriating human remains and sacred objects; and raising awareness of Sweden's history of abusing, colonizing and interacting with Sámi people.
The fourth panel gave a broad perspective on histories of oppression and resistance, with Hiroshi Maruyama, Carles Jornet Aguareles, and June Lorenzo. Hiroshi introduced the longstanding Japanese practice of stealing Ainu remains for eugenicist study, and discussed ongoing struggles for demanding their repatriation. He concluded that Ainu activists can take inspiration from other repatriation struggles, specifically from Sápmi. Carles discussed Indigenous land reclamation from his own perspective as an adopted member of a Rapa Nui community. He described how the Rapa Nui People have been successful in using direct action to further their demands for indigenous land sovereignty, resulting in management rights for the Rapa Nui national park. June discussed the issue of Indigenous knowledges, and how to protect it within the framework of international law. She explained that protecting Indigenous knowledges sometimes also entails rejecting the colonial scientific ideal of sharing knowledge in the public domain; it should be on the terms of Indigenous communities themselves as to how knowledge is shared and framed, and towards what end. The three presentations showed the nefarious relationship that science can have towards Indigenous communities, and they stressed the necessity of including Indigenous voices within academic and nature conservation spaces in order to truly decolonize them.
The fifth and final panel further explored Indigenous resistance and resilience through art, with Katarzyna Pastuszak, Stefania Castelblanco Pérez, and Arnaq Grove. Pastuszak, Director of theater collective Amareya & Guests, presented the Amareya project with Louise Fontain Najavaraq, an Indigenous woman from Greenland who shares her complex life story through art. Katarzyna made an evocative metaphor of working together for decolonization through sharing each other's life stories as connecting threads and finding intersections to build a multivocal story. Stefania presented her research on nonviolent resistance through indigenous handbag artisan crafts in Colombia. She argued that artisanship can help Indigenous communities build economic stability; revitalize cultures, identities, and histories violently eviscerated by settler colonizers; and pass on knowledges in mediums beyond written historical language often established by Western colonizers. Arnaq spoke on the importance of language education in her native Greenland in order to pass on Indigenous knowledges. An educator herself, Grove explained how she teaches the Greenlandic language as a medium for learning all sorts of Indigenous knowledges. Julie Edel Hardelberg, who is also Greenlandic, summarized that Indigenous languages are a geography in which Indigenous Peoples can continue to exist once their physical territories have been stolen. Language is a means to survive and thrive and create and take power beyond settler colonialism, a means to determine one's own belonging to the place where one's language was originally developed; the place that is perfectly described and understood through one's language because that language was developed in conversation with the territory. Language is a means to lay claim to one's land, to exist in conversation with it, to intimately know it, and to refuse settler colonial claims to it.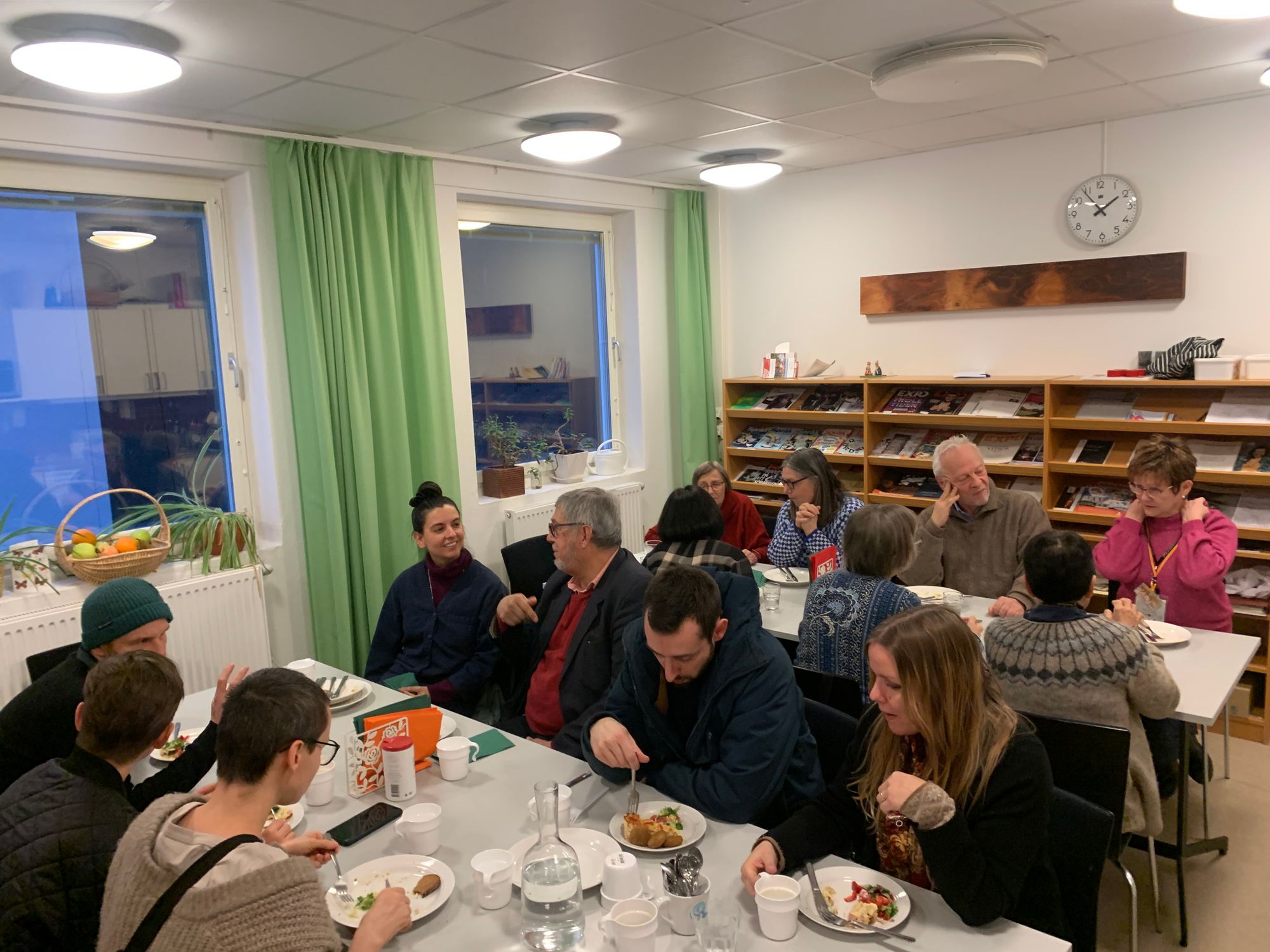 We concluded the day with snacks and drinks, as well as a presentation by Amareya Theatre on their work with Ainu women during the pandemic and in a visit to Japan in November 2022. Katarzyna Pastuszak, Natalia Chylínska, and Alex Andra screened a video on their performance in Ainu Mosir (Monbetsu, Hokkaido, Japan), using a red thread to connect the river where an Ainu fisherman "illegally" fished salmon and trout in accordance with Japanese regulations to a forcibly destroyed Ainu kotan (community). After that, they showed embroidery woven by Ainu women in the shape of their hands embracing her-stories. They explained that the pandemic provided difficulties as well as opportunities, since it encouraged the Ainu women to independently use their creativity.
Having discussed the content of the book on day 1, we had the opportunity to explore some other topics on day 2. This included topical presentations, personal reflections, and proposals for next steps. We started the day with zooming in on recent social and political developments in two countries, China and Chile. Gegentuul Baioud gave a presentation on Mongolian purist discourses in China. She presented the socio-political context of the status of the Mongolian language in China, specifically focusing on Chinese settler colonialism in Inner Mongolia and its impact on everyday Mongolian. Next to the gradual erosion of the language through the growing influence of Mandarin Chinese in daily life, Gegentuul exposed the recently shifting government policies aimed at actively suppressing Mongolian language and identity in education. Gegentuul concluded with explaining the role of civil society in challenging this linguistic deterioration through black humor and active language preservation projects. Next, Quintin Gumucio Castellon and Carles Jornet gave a talk on constitutional reform in Chile. They explained some of the challenges that contributed to the referendum rejecting the progressive constitution, such as that it was considered to go either too far or not far enough. They argued that rather than just indicating right-wing backlash, we can also understand the outcome as a cry for more material guarantees for indigenous autonomy, indicated by the fact that also in areas with many Indigenous People, the majority voted against the proposed constitution. The two presentations together served as a reminder of the difficulty of institutional change and the need for building grassroots structures that can prove a durable challenge to the settler colonial state. After the coffee break, we were presented with an example of such an initiative, when Sagka Stånberg gave a presentation on language revitalization projects with South Sámi communities. It was an inspiring example of how settler colonialism and the erosion of indigenous identity can be challenged from below.
We spent the afternoon discussing lessons we learned during and from the pandemic, using these as prompts to think about ways to support each other going forward. We discussed our personal experiences in small groups and aggregated these in a plenary discussion. There were some common themes. For example, Marie Persson Njajta said that the pandemic did not have a big impact on Sámi communities (except for the border closure) because they are already used to being neglected by the authorities and having to be self-sufficient, which resonated with other Indigenous representatives. For Katarzyna Pastuszak, the pandemic was a reminder of the importance of physical connection, not only in the sense of being together but also of sharing material objects. This prompted new initiatives with Ainu women. In this sense, change and continuity as well as the importance of solidarity and resilience were common themes running through the conversations. And through digital communication, we can remain connected even in the face of global adversity. This focus on communication brought Olivia Doyle to reflect on the deep desire for empathetic connection that COVID isolation brought. Her desire reflects the calls of antiracist initiatives towards greater solidarity via empathetic action, but it also conflicts with the incommensurability between individuals and certain social justice movements that Indigenous authors working towards decolonization have pointed out. In any case, the group seemed to agree that acknowledgement of the ways in which our behaviors affect each other, communication about how we have been harmed and how we can reduce the harm we cause, and commitment to altering our behaviors so we can facilitate decolonization are all necessary components of our collaborations going forward.